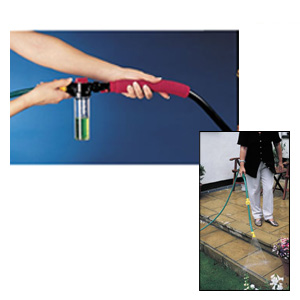 Water broom water sweep
Water broom with mixer
You can now have our classic water broom water sweep with an added feature.
This water broom comes with an extra mixer container
Simply fill with detergent, fertilizer, insecticide, lawn feed or whatever you need to spray mixed with water
The water broom mixes as you spray.
Wash your car, feed your lawn, treat your flowers.
This water broom helps with it all
As well as retaining the water broom water sweep features:
turn any garden hose into a 500mph water broom.

Quickly sweep away leaves, dirt and debris.

Have tough dirt stains disappear in seconds

Jet spray easily cleans between cracks.

Water Sweep water broom includes on/off control
water volume is adjustable
And now have water broom water sweep add detergent etc.
Also available: water broom without mixer. Big picture of water broom with mixer




Join the water broom with mixer club at Productchat.com or just see what they are saying. Chat, your questions answered, support and customer product reviews. Swap tips and compare notes about water broom with mixer.