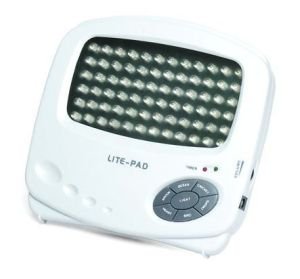 SAD lights
Light Therapy Pad with Nature Sounds
The Light Therapy Pad combats seasonal affective disorder (S.A.D.) with powerful LED lights generating 5000 Lux in a unit measuring just 16 x 15 cm so itís handy to take along to any room. It also has the option of soothing nature sounds whilst you top-up your brightness intake.
Simulates natural daylight
6 relaxing sounds

wind
birds
sea
frog
riverside
forest
Improves physical and mental wellbeing during dark, short winter days

Helps the treatment of Seasonal Affective Disorder (SAD)

Uses bright LED lights (5000 Lux) with built-in timer

Compact, light and portable

UK mains adapter included or use your own multivoltage adapter Big picture of sad lights




Join the sad lights club at Productchat.com or just see what they are saying. Chat, your questions answered, support and customer product reviews. Swap tips and compare notes about sad lights.