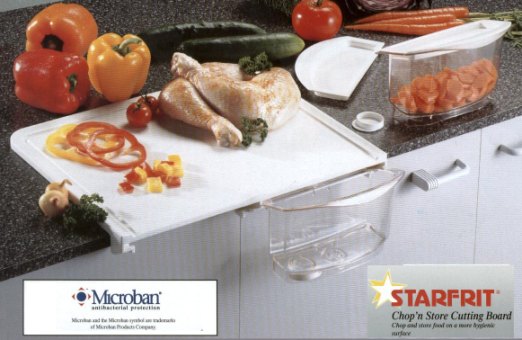 Chop'n store cutting boards with food storage
Chop and store food on a more hygenic cutting board surface.
Possibly the best cutting boards you can buy, the Chop'n store cutting boards not only activly fight bacteria but can also keep your food for you.
Simply chop your food on the chop n store cutting board, attach a matching container, sweep the food with a knife from the cutting board into the container, pop on a lid and the food is ready to store for use in your fridge or freezer.
With the Chop'n store cutting boards you receive:

One cutting board with Microban antibacterial protection
Two graduated containers for measuring, draining and storing.
Two removable lids to keep our food covered,
Two drainage plugs, to seal your containers when the food has drained.
Chop'n store cutting boards come:

made of poly propylene with Microban protection which inhibits the growth of bacteria on the cutting boards
Fights odour causing micro organisms
anti bacterial protection that lasts the life of the Chop'n store cutting boards
Helps contribute to a more hygenic environment
Comes with two containers with removable lids and plugs to measure, rinse and store foods.
The cutting boards have a slightly curved cutting surface so that liquids flow into the groove or containers.
The containers which come with the cutting boards are designed to fit on fridge door shelves.
Containers go in the fridge and freezer
These cutting boards are designed and made in Canada
Big picture of cutting boards

Join the cutting boards club at Productchat.com or just see what they are saying. Chat, your questions answered, support and customer product reviews. Swap tips and compare notes about cutting boards.