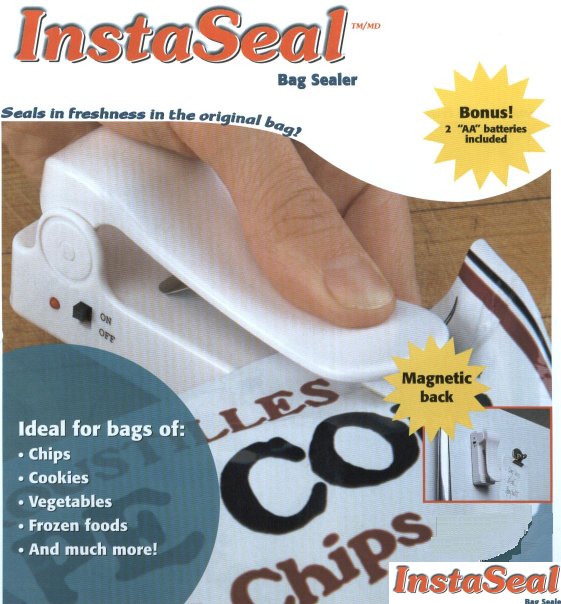 InstaSeal Bag Sealer
Seals in freshness in the original bag!
Moving frozen and air tight food to ever smaller containers is a lot of work with labeling, washing up and dealing with mess.
Instead, InstaSeal Bag Sealer lets you reuse the bag the goodies came in. Just pinch the bag, heat and reseal.
Watch out house! InstaSeal Bag Sealer has so many other uses, sandwiches, fuses, paperclips, cotton bobbins, fresh fruit and more will find themselves getting the tidy up InstaSeal Bag Sealer treatment.
InstaSeal Bag Sealer is ideal for bags of

chips
cookies
vegetables
frozen foods
and much more
Comes with a magnetic back so InstaSeal Bag Sealer can stick to your fridge always at the ready, and 2 free aa batteries so that you can get started with your InstaSeal Bag Sealer right out of the box. Big picture of bag sealer




Join the bag sealer club at Productchat.com or just see what they are saying. Chat, your questions answered, support and customer product reviews. Swap tips and compare notes about bag sealer.