Contact

Anywhere in the world within 2 to 4 weeks or less.
Distribution via centers in New Hampshire (US), SURREY (UK), and London Heathrow (Europe) linking into an international network.
WORLDWIDE: Storeshop.com, 5A-5B Little Mead Industrial Estate, CRANLEIGH, Surrey, GU6 8ND, UNITED KINGDOM

One Year Guarantee


Full refund of price on return if dissatisfied.
Products also contain manufacturer's guarantee.

Secure Ordering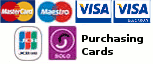 Fully Credit Card approved merchant.
Thwaite secured, bank approved instant credit card clearing for your security. Details
No Credit Card numbers kept on server!