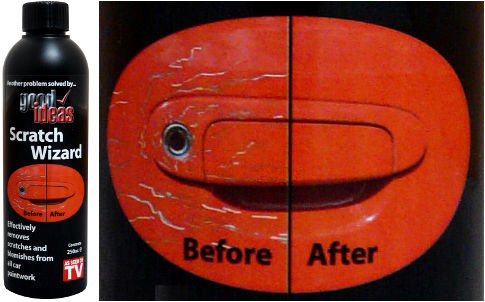 Pro Formula car scratch remover
No matter what the color of your car * or scratched surface this amazing car scratch remover compound will hide and seal those annoying scratches - invisibly
Just wipe the car scratch remover over the car paint scratch and, when it is dry just moments later, buff and hey presto, the scratch has disappeared.
Pro Formula car scratch remover saves hours of time and frustration trying to match touch up paints
Great for cars, vans, motorcycles, trucks, kitchen appliances and boats too.
Pro Formula car scratch remover even makes chrome, brass, silver and copper look like new again
In just minutes with a single wipe on wipe off treatment.
* except for models with a laquered mettalic finish. Big picture of car scratch remover




Join the car scratch remover club at Productchat.com or just see what they are saying. Chat, your questions answered, support and customer product reviews. Swap tips and compare notes about car scratch remover.