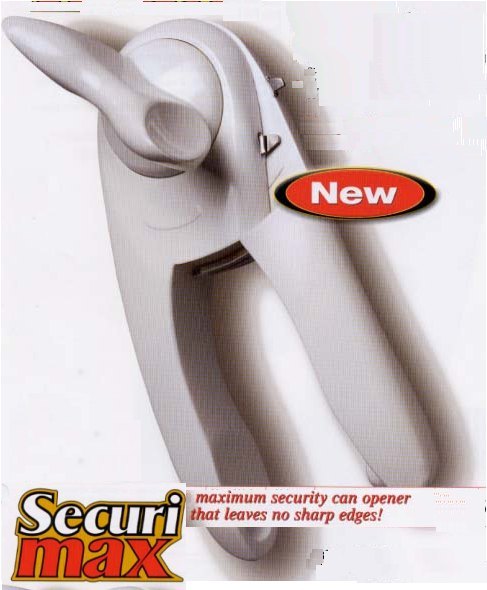 SecuriMax can opener
The maximum security can opener that leaves no sharp edges is possibly the best can opener available.
While cutting, the blade compresses the edges of the can and its lid so that they are never left sharp or jagged.
Each turn of the handle exerts 45.4 kg of pressure on the cutting blade which penetrates the lid of the can with precision and at exactly the right angle.
The SecuriMax can opener is the safest, most powerful and enjoyable to use can opener on the market today.
Featuring state of the art can opener technology, SecuriMax is incredibly effective and easy to use.
Whats more, thanks to this new generation of can opener, cans can now be recycled with total safety.
Safe
Simple to use
New ergonomic design
Comfortable to handle
Opens cans of all shapes and sizes
Easy to maintain and clean. it takes.
Hygienic: SecuriMax is equipped with a mini gripper to remove lids
Possibly the best can opener available. Big picture of best can opener


Join the best can opener club at Productchat.com or just see what they are saying. Chat, your questions answered, support and customer product reviews. Swap tips and compare notes about best can opener.