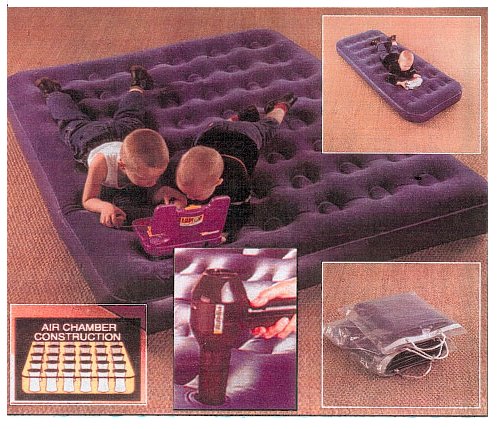 Inflatable bed
Flocked
Inflatable beds are easily inflated with a foot pump, compressor or hairdryer on cool setting, but can be quickly deflated using the quick release plug.
Air Chamber Construction
Comes with sturdy carry bag
Available in double inflatable bed and single inflatable bedsizes.
Also available optional inflatable bed air pump
Double inflatable bed

187cm x 137cm X 12cm
73 1/2 in X 54 in X 4 1/2 in

Single inflatable bed

182cm x 71cm x20cm
71 1/2 in x 28 1/2 in x7 1/4 in
Big picture of inflatable bed

Join the inflatable bed club at Productchat.com or just see what they are saying. Chat, your questions answered, support and customer product reviews. Swap tips and compare notes about inflatable bed.