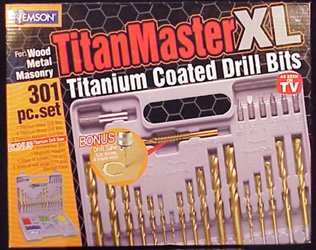 Titan Master XL
Titanium Coated Drill Bits
301 Piece drill bits set for Wood, Metal and Masonry !
Includes these drill bits:

7 Titanium Metal Drills
5 Titaniun Wood Drills
5 Titanium Masonary Drills
5 Screw Driver Bits
1 Magnetic Adapter
5 Sizes of screws ( 95 pcs )
5 Sizes of wall plugs ( 180 pcs )
Storage Case
Bonus 1 Titanium Drill Saw
Order 301 Piece drill bits set in a storage case plus free bonus saw today. Big picture of drill bits




Join the drill bits club at Productchat.com or just see what they are saying. Chat, your questions answered, support and customer product reviews. Swap tips and compare notes about drill bits.