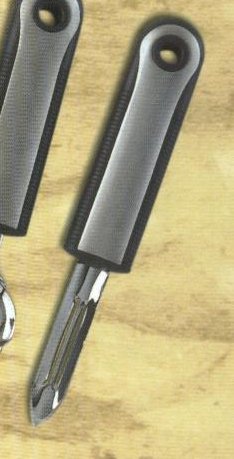 Vegetable Peeler
The vegetable peeler shows that there is genius in the everyday done exceptionally well.
The wide vegetable peeler handle sits in the palm of your hand, and you grip on the vegetable peeler handle's ridged edge.
Look at any other vegetable peeler and you see a pencil like design. A small area slipping and rubbing against your skin, and no real grasp when digging out eyes or rough parts.
Look at the picture and imagine yourself holding the vegetable peeler and using the vegetable peeler. Feel how it is designed as a kitchen tool to be actually used.
The vegetable peeler is crafted from super strong diecast alloy and is sensibly washable in warm soapy water. Want one?
Household Goods & Items > > Wide Handled Vegetable Peeler