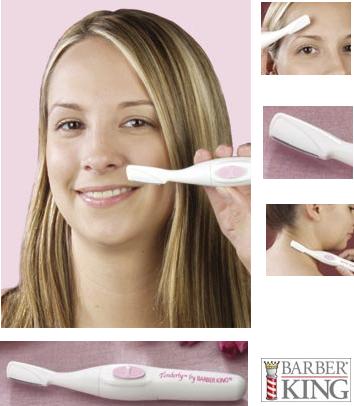 Tenderly hair remover
by Barber King
Peach fuzz looks great on peaches, not your face.
Gently remove the downy hairs of the face and neck with the Tenderly hair remover by Barber King.
Unlike a manís razor which requires water and shaving cream, the Tenderly hair remover is specifically designed for a woman.
Its hypoallergenic blade quickly and easily snips the fine hairs of the upper lip, chin, neck and jaw line without ever touching the skin.
Make-up will go on smoother and appear absolutely flawless. Waxing is messy and painful, but Tenderly hair remover is even gentle enough to trim away unwanted hair around sensitive areas, such as moles, where plucking is forbidden.
So small and discreet, Tenderly hair remover easily stores in a make-up bag or purse, for quick touch-ups on the go.
Tenderly hair remover is:
Gentle and pain-free
Discreet and easy to use
Easily fits in a make-up bag for travel
Uses 1 'AA' battery (not included)
Includes cleaning brush and instruction sheet
Dimensions: 6-1/2" L x 1" H
Big picture of tenderly hair remover




Join the tenderly hair remover club at Productchat.com or just see what they are saying. Chat, your questions answered, support and customer product reviews. Swap tips and compare notes about tenderly hair remover.