NOTE: Ding King in stock and shipping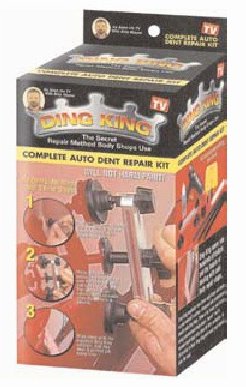 Ding King Twist A Dent
Car dent remover
Try to get a dent out of your car, and youll end up with a huge dent in your wallet. Introducing Ding King Twist-A-Dent by Dent King. Its the do-it-yourself car dent and ding remover with professional results.
Simply apply the ding king glue special bonding agent to the super-strong car dent puller
place it firmly in the middle of the car dent.
fit the pulling bridge over it,
twist on this special wing nut.
the car dent is gone!
Just like turning a tap! You have to see it to believe it. Like magic, the car dent is gone!
Use a drop of rubbing alcohol to wipe away the Ding King bonding agent, and your car is like new again. You cant even tell it was ever dented!
Got a doozy of a car dent? Dont pay a fortune to have it removed. Why risk a higher insurance rate? Not when you can remove it so easily with the Ding King Twist-A-Dent. Just turn the wing nut, and watch that awful car dent disappear right before your eyes. Its gone in practically no time!
Big car dent? What car dent? Now you see it, now you dont! Ding King Twist-A-Dent works on any finish... on most all makes and models.
You get

the electric bonding applicator,
the special bonding agents, two different dent pullers,
the pulling bridge,
the special wing nut...
everything you need...
guaranteed to remove your toughest car dents and dings or your money back.
So dont delay.

Order your Ding King Twist-A-Dent now!

NOTE: Ding King in stock and shipping

ding king glue also available.
Household Goods & Items > > ding king