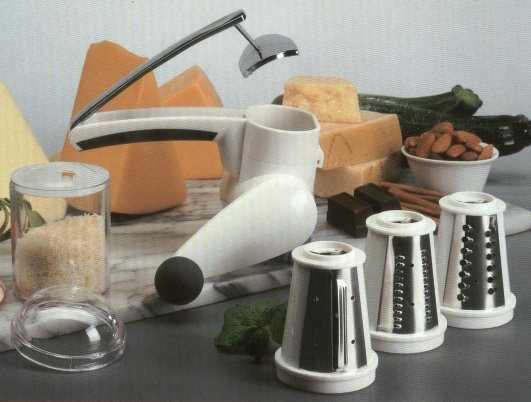 Deluxe Rotary Grater
Easily grates and slices cheeses and other foods
Introducing the brand new Deluxe Rotary Grater.
Deluxe Rotary Grater as you expect shaves or grates hard or soft cheese, vegetables and chocolate. However, this is one tough grater. Put in nuts, ginger, nutmeg and cinnamon.
The Deluxe Rotary Grater is so solid and well designed, it can be used to grind coffee beans Deluxe Rotary Grater is:

Made from ultra durable plastic
None slip Santoprene handle and knob
Chrome plated die-cast aluminium press
Three interchangable stainless steel grating drums
Exclusive shaker container attaches to drums to collect gratings
Easy to assemble and disassemble
Not dangerous for fingers
Ideal for left handed or right handed use
Dishwasher safe
Click below to try the Deluxe Rotary Grater for yourself.
Big picture of grater




Join the grater club at Productchat.com or just see what they are saying. Chat, your questions answered, support and customer product reviews. Swap tips and compare notes about grater.